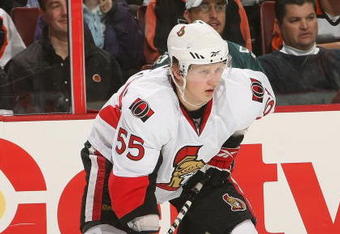 Assuming the status quo is intact, tonight's game against the Wild will mark Brian Lee's 26th consecutive game as a healthy scratch. Though the tale of Brian Lee has been told and re-told, and the laments of taking him over Kopitar and Mark Staal have been heard ad nauseum, at what point do the expectations drop, if ever? He is by no means a bad player, just caught in an awkward situation. His agent's pushing and Murray's acceptance in giving Lee a one-way contract has limited Lee's options pretty severely. At this point, the Senators can either sit him while they try to find a trade partner or send him down to Binghamton and risk losing him at half-price if they need to call him back up.
But wait, there's a third option! How about actually playing the kid? If Murray is pushing Lee in trade offers, why not play him, showcasing him to the league's GMs? It seems irresponsible to allow an asset to sit and not let him develop his play in game situations. Further, if we don't play him now, and we can't find a taker for his one-way contract this season or next, then it's a virtual certainty that we're letting a former 9th overall pick walk away for nothing. We discuss Ottawa's poor asset management regularly -- letting Chara walk, getting scraps for Havlat, trading Tim Gleason and Brooks Laich for Bryan Smolinski and Peter Bondra.
At this point, getting ANYTHING for Lee is most likely impossible, or Murray would have already pulled the trigger. If there's no league-wide interest in Lee, what good is served from letting him sit? The whole team has been nothing short of an unmitigated train wreck this season. Is the message Clouston and Murray are sending that even our current defense is better than putting in Lee? I don't see it.
Don't get me wrong, I'm not a fan of Lee's, nor do I expect I ever will be. Some of that can be attributed to his being a product of the Muckler era, and the rest to the fact that he never takes the body. To treat a former top prospect so badly, though, is just not right, especially when slotting him in as a 6th defenseman couldn't possibly hurt your team any more than it already is hurting. Besides, it's not like he's getting any more attractive to GMs, sitting up in the press box.
I just hope, for both his sake and that of the Senators, that Lee can find a team where he can show why he was drafted so high. It's clear that day will never come in Ottawa.